Congratulations to Steven Banister, kindergarten student at La Merced!!!! He won a bike for year-long perfect attendance!!!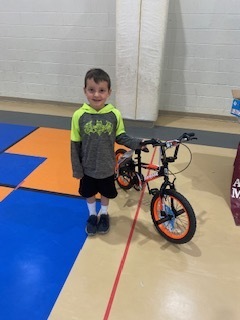 Hello La Merced family. Last Friday, we were able to have our first school assembly at LME this year. One thing that was addressed is the upcoming field day. Starting May 2, if a student receives a referral slip to the office, they will loose the chance to participate in field day. We are hoping that this will help the students make better decisions and better choices. Please discuss this with your students. Thank you.

Hello La Merced Family. Don't forget that we have Friday and Monday off for Easter Holiday. Classes will resume on Tuesday the 19th. 6th Grade will begin state testing that day, so please get plenty of rest and make every effort to be at school on time. Have a great holiday.

Hello La Merced Family. With the large smell of smoke in the air, we will be keeping the students in for recess today. Also, don't forget that we are on a half day schedule.

Hello La Merced Family. I just got word from Superintendent Sanchez that we are back to school tomorrow. We will be on half day schedule. We look forward to seeing everybody tomorrow at regular time.

Hello La Merced family. Thank you all again for the amazing way we handled having to leave the school yesterday. Due to school being unexpectedly closed today, the Belen Library has offered to host lunch for our students starting at 12 noon today. Please head over for a lunch and make sure you thank these wonderful people for offering this kind gesture.

Good evening, It has been recommended by those fighting the fire that La Merced not be open tomorrow. We are following this advice and closing the school for the day. La Merced principal Mr. Olander will send out more information regarding remote instruction.

Hello La Merced family's. I'm sorry for the late call, but school for tomorrow has been canceled. We are asking if you can get online and work on schoology as much as you can. Please keep everyone in your thoughts who have suffered any loss in this fire. We will keep you posted.

Hello La Merced Family. On Saturday, April 9th, the Rio Communities Optimist Club invites you to a fun day of hands-on activities presented by Explora! All information is on the attached flier.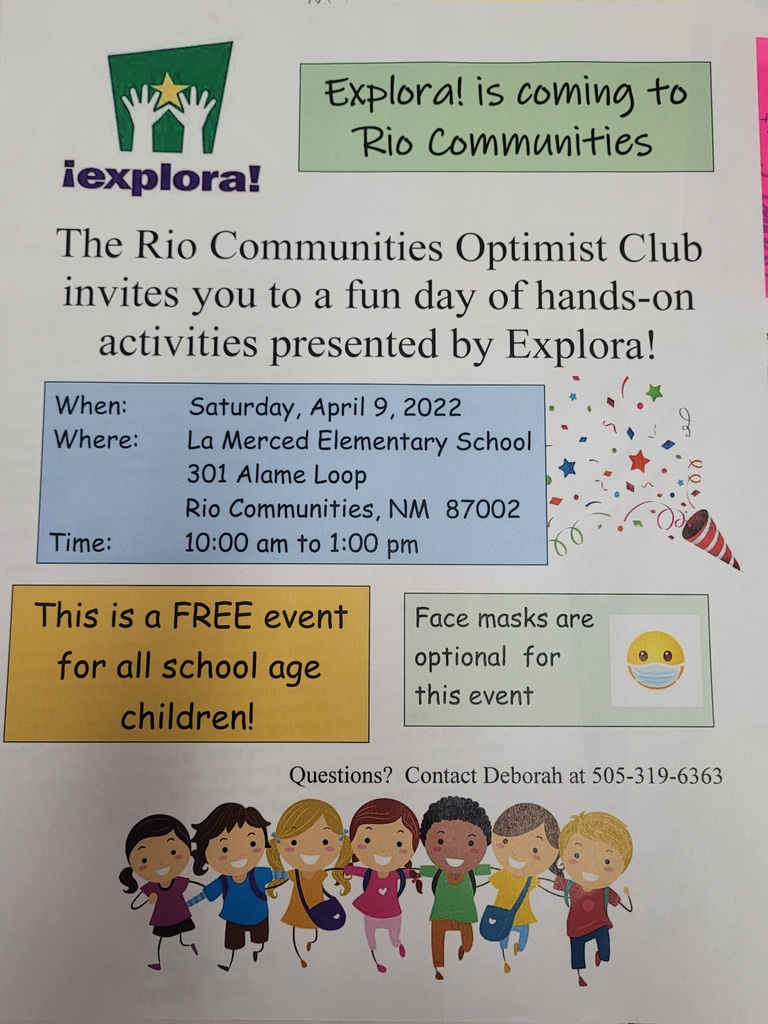 Hello La Merced Family. Friday April 1st is the last day to purchase a yearbook!! You can only purchase a yearbook online! If you would like to purchase one for your child please click on the link below. When ordering online you have an option of customizing two pages for your child. Year books cost $15.40 with tax.
http://www.treering.com/validate?PassCode=1014178272563110
Next week we have the NM-MSSA testing starting. We begin with 3rd and 4th grade then then 5th and 6th the following week. Please make sure you are present to take the tests and get plenty of rest. And Friday is Popcorn day. Don't forget your $.50.

Hello La Merced Family. Tomorrow is Friday and the last day before Spring Break. Woo-Hoo!!! We will be having a special popcorn day tomorrow, so don't forget your $.50.

Hello La Merced Family. Don't forget that tomorrow is picture day. Please come ready to look your best for your Spring pictures. You can still wear green to have your picture taken.

Hello La Merced family. There has been a schedule issue with our spring pictures. The pictures will be on Thursday, March 17 and not tomorrow March 16. They photographer apologizes.

Hello La Merced family. Just a reminder that tonight we push our clocks forward 1 hour for Daylight Savings. Have a great weekend.

Hello La Merced family. This is just a reminder that Mr. Sanchez will be in the LME cafeteria at 5:00 tonight to discuss the boundaries and open enrollment for next school year. Please attend if you have any questions.

Hello La Merced family. Thursday evening at 5:00, Mr. Sanchez will be at the LME cafeteria to discuss the new school boundaries. If you have any questions, please come and ask. We hope to see you all there.
Good morning La Merced Families. Please join Mr. Sanchez for a parent meeting on Thursday March10, 2022 at 5:00 pm in the cafeteria. He will be discussing new student boundaries.

Hello La Merced Family. Tomorrow will be our last day celebrating Read Across America. We will be having PJ day for this event. Also in honor of Dr. Seuss, we ill be having Green Popcorn. Please make sure you bring your $.50. Thank you for being part of the La Merced Family.

Spring photos will be taken at La Merced Elementary School on March 16th. All students will be photographed with a close up and 3/4 length photo and you will receive a proof to see your student's photo before you buy. We will also be making digital group photos with the individual photos so they will NOT BE TAKING GROUP PHOTOS in person. They will be photographed on a green screen so please avoid green and you will be able to pick your background for individuals when you place your order. All you need to do is send your student dressed and ready for picture day.