The following was announced by Chief Harris of the Belen Police Department to all BHS students: This is Chief Harris of the BPD. regarding recent police activity at the BHS. First and foremost, I want to inform you all that at this time we do not believe there is any creditable threat on the campus. From this point on, BPD as well as other law enforcement throughout the State of New Mexico and other jurisdictions are taking every threat seriously. We are in contact with the FBI as well as the New Mexico State Police, and we are working diligently with these entities and utilizing all technological tools at our disposal to track down where these threats. As we move forward in our investigations, we will be identifying individuals and we will be charging them with crimes ranging from interference with the educational processes to the federal charge of instigating terrorist threats. This includes any person who makes or instigates any threat, in person, by phone, electronic device, or by using any social media platform. Make no mistake we do have the technological expertise at our disposal to track down these threats and we will be filling charges accordingly.
Parents and community, Thank you for your diligence in reporting any perceived threats. There is a snap circulating expressing concern about a shooting at BHS. However, there is not an active threat at this time. BPD is on campus investigating, and will remain a presence on campus.
BHS is moving to full lockdown. Law Enforcement is on site and has assumed command of the situation as is investigating. Please do not try to come onto campus. When we receive the all clear, we will send out a notification. Thank you for understanding and your complete cooperation.
BHS has received a threat. We are currently in a modified lockdown as a precaution as we and law enforcement investigate the threat. When we receive the all clear- we will remove the lockdown. We cannot allow any vehicles onto campus at this time as a precaution. Please be patient with us as we are working diligently to keep everyone safe.
Good evening BHS families, Please click on the following link to access a letter from BHS principal Sonia Lawson regarding an incident involving a BHS employee and student.
https://5il.co/1i3mj
Good Afternoon BHS Families, Wednesday, October 12th will be a full day of school were students will begin classes at 7:15 and be released at 2:25. The 12th will also be our PSAT/NMSQT testing day. All 10th graders are signed up to take the PSAT as a great way to prepare for the NMSQT and SAT. If you are an 11th grader and are interested in taking the NMSQT in order to have a chance to qualify for the National Merit Scholar Award, please see Mrs. LaFayette in the counseling office to sign-up no later than Friday September 30th. If you have any questions, please do not hesitate to reach out to the BHS Administration and/or Counseling Office.
The City of Belen has advised that they will not allow parking for BHS at Eagle Park and parents of unlicensed drivers will be cited. Beginning September 14th, the City will begin towing vehicles. As a reminder ALL BHS students who drive must be properly licensed drivers and have insurance in order to purchase BHS parking passes. Parking passes are 10.00.
Good Evening BHS Families, Picture day will be next Tuesday and Thursday in students' English classes. All students received order forms in their English classes on Friday. If you would like to purchase pictures, please send the form and payment in the envelope provided with your student on their designated picture day. These will be the pictures used for student portraits in the yearbook. Seniors may submit an alternate picture to Mrs. Aragon by January 1st. Refer to Senior Info provided on registration day for details regarding submission.
Good evening BHS Families! Homecoming Dance tickets will be on sale until 11:45am on Friday September 9th. If you are interested in purchasing a Homecoming ticket, please do so tomorrow before school, at lunch, or after-school or Friday before school or at lunch. Tickets will not be sold at the door on Saturday Night.
BHS has been cleared of any emergency by the Belen fire Department. All classes have resumed as normal.

Good morning Eagle Families, It is believed that a student pulled a fire alarm at the school this morning. The Belen Fire Department is currently making sure that all is clear before allowing all to return to classes. As far as we know there is no emergency. If that changes we will let you know.
Good evening BHS families. As we finish out the month of August, we would like to remind all students who drive to BHS for school will need to pick-up their permanent parking pass not later than Wednesday, August 31st. Beginning September 1st, all students who park on campus will be required to have their current BHS parking pass properly applied to their vehicles windshield. If you still need to pick up your parking pass, please see Ms. Roberta in the 900 offices to do so. You will need either your temporary parking pass and receipt or your driver's license, proof of insurance, and proof of registration along with $10. If you have any questions, please see Ms. Roberta or any of the BHS front office staff. Thank you and have a wonderful evening.
Please be aware BHS will be having an evacuation DRILL this morning shortly after 9:00 AM. This is ONLY A DRILL.
In an effort to ensure students arrive to class on time BHS staff are exploring both incentives and consequences for students who are excessively tardy. There are a few ideas that have been discussed including rewards and detentions that occur after school or on a Saturday. Nothing is finalized, but we are reviewing all recommendations and options. At BHS we are focusing on developing employability skills; The ability to arrive on time is a critical to employers and a skill we want students to practice. We will be holding a parent meeting in early September and we welcome any and all input. We will send out another notice when the date is confirmed. As always, BHS Administration welcomes feedback as it is critical to improving outcomes for students.
There was an incident on campus today. There was no immediate danger to staff or students, but it is our duty to inform our school community. Please click on the link to read our letter.
https://5il.co/1fjag
Good morning BHS Family! First and foremost, we would like to welcome you back for the 2022-2023 School Year! We have made some adjustments to our traffic flow pattern to hopefully better ease the morning traffic jam and increase safety. Parent drop-offs and staff will enter the school grounds through the main gate on Delgado Avenue and proceed to the second right of way and turn left. Parents will then drop off in the "old drop-off lane" but in reverse of what it used to be (West to East). Students will enter through the north gate on Eagle Lane, the previous parent drop-off lane and proceed to the student parking lot. Please see the attached image for more information, or call the BHS front office with any questions. Thank you all for you patience and understanding as we try to alleviate the traffic flow issues we typically experience each school year.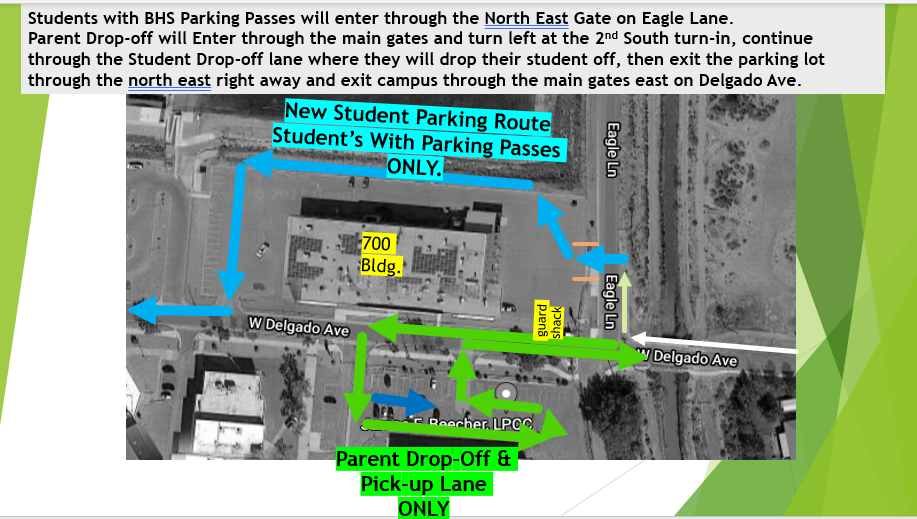 Reminder that registration will be held daily from 7:30 AM to 3:00 PM beginning with Seniors, Monday July 25th; Juniors, Tuesday July 26th; Sophomores, Wednesday July 27th; and Freshman, Thursday July 28th.
Belen High School will have registration the week of July 25-29 from 7:30AM to 3:00PM Seniors July 25th, Juniors July 26th, Sophomores July 27th, and Freshman July 28th
Hey Seniors! This is a great opportunity for a graduating student that is interested in accounting, finance and/or business, has strong math and computer skills, and a great work ethic. It is an entry level, full time position in our Finance department at Central Office. See the image below for details!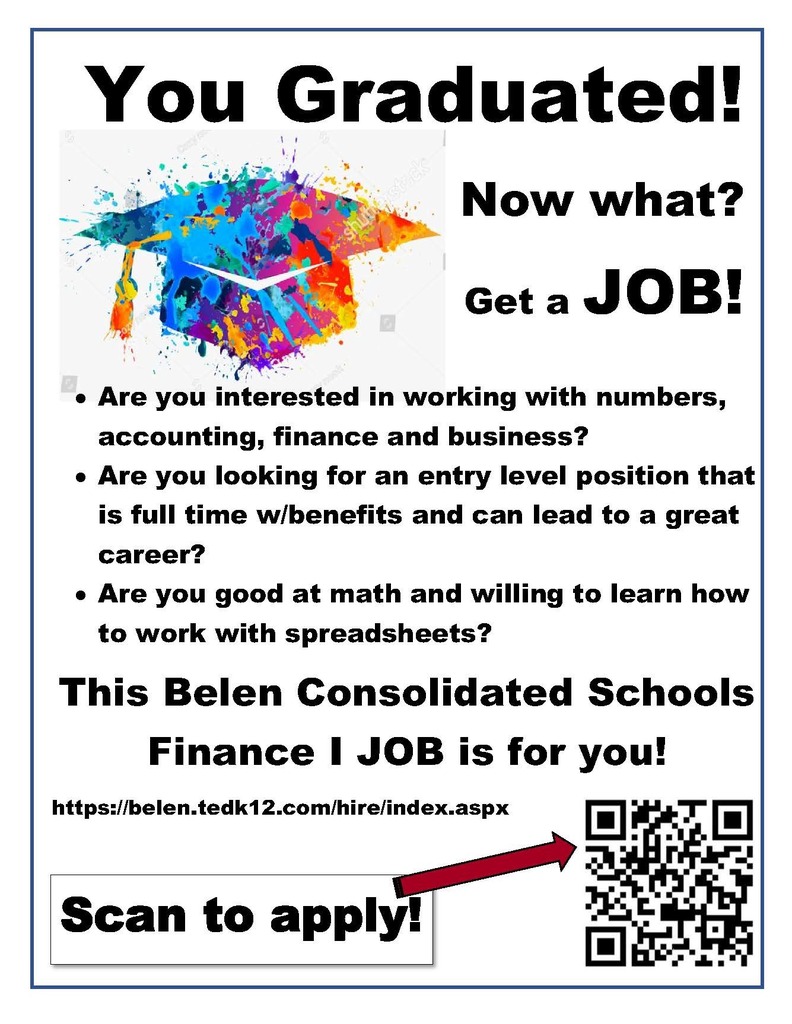 You Graduated!