Additional parent and visitor information-Gates will open 6:55-7:00 AM Parents will use the north gate off of Eagle Lane to enter campus. Students may be dropped off near the sidewalk entrance. Parents will exit campus through guard gate exit. See attached link for the map:
https://5il.co/1kuyu
. The map is posted in the documents section on the BHS page as well. Visitor parking will be across the street from the main campus near the Garage or 700/ CTE building. The current visitor lot near the front office will be closed as there is no walking access to the main building.
Good afternoon, We are excited to announce that we passed the inspection and Mr. Sanchez has given the go ahead to have students in person Thursday and Friday, November 17 & 18th. We will not open gates to students until 6:55-7:00 so we can be set up to receive and guide students. The guard shack drive in entrance will be CLOSED. Student driver traffic will proceed as usual behind 700 to the student parking area. Parents who drop off must also enter through the north gate around the 700, turn east and drop off in the driveway near the main sidewalk that runs between the 100 and the 400. Students will be served cold lunch on Thursday and Friday. Thank you for your patience, grace, and understanding as we navigate the construction issues. GATES WILL OPEN AT 6:55-7:00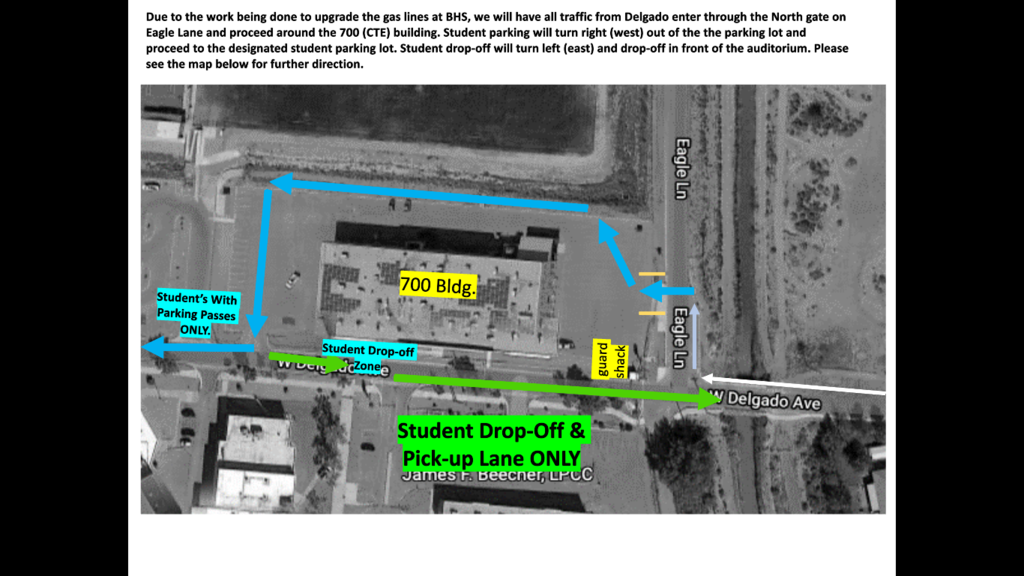 Good afternoon BHS families! We will need to have all classes remain in remote learning through at least Wednesday of this week. Belen Schools Leadership is currently working with the contractor and exploring all options to develop a plan to safety bring all students back onto campus and resume in-person learning as usual. For any students who are struggling with remote learning at home, we do have workstations setup on campus and our usual bus routes to and from the school for any students who need it. Thank you all for your continued patience as we work through this issue. We will continue to send updates as new information comes available.
Good Afternoon BHS Families! Crews are on-site working diligently to resolve the gasline issue at BHS. We will need to remain on remote learning for tomorrow, November 10th. Regular bus transportation is available if students need to come to campus for network connectivity, technology issues, or just need a space to work. Breakfast and lunch will be available to all students who are here on campus. We will try to keep you updated as soon as possible as to the status of next week. Thank you all for your patience as we work through this issue. Please contact BHS if you have any questions.
BHS will remain in remote learning Tuesday November 8th, and Wednesday November 9th. We will provide another update on Wednesday, but do hope to be back in person on Thursday November 10th.
Good Evening BHS Families! Just a reminder BHS will be in remote learning through Teams meetings and Schoology. Please check your available technologies tonight to determine if you are able to log into both of these platforms. If you are not able to log into both platforms, please plan on bringing your laptop to BHS tomorrow where we will have tech support, network availability, and a workspace for all students who need it. Normal bus routes will be running tomorrow if needed. Lunch will be served for all students who work from campus tomorrow, but we will not be serving breakfast or nutrition break.
Good Afternoon BHS Families, BHS students will remain in remote learning Monday November 7th. Crews are continuing to work on the repairs to the gas line, and while there is progress, the repairs are not complete. We wanted to inform everyone is quickly as possible. We appreciate your cooperation for today, and we thank you for your continued patience.
Good Evening BHS Families! As a reminder, Friday November 4th will be a remote learning day for all BHS students. A link to all your students' Teams meetings for each class will be available on their class Schoology page. Attendance will be taken for each class based off of students' login and full participation in each class. In order for students to be counted present they must be logged into class the entire class period with their camera on. If students do not have a working device and/or capable internet connection to participate in class with their camera on, they will need to report to Belen High School were we will have work stations, network connection, and tech support. Regular bus transportation will be available. The BHS cafeteria will only be serving lunches to students who are working from campus. Breakfast and Nutrition Break will not be available.
Hello BHS parents. Due to the need to concentrate on student technology needs tomorrow regarding remote learning, picture makeups and delivery of packages will need to be postponed to a later date. We will reschedule and let parents know as soon as we can reschedule. Thank you and sorry for any inconvenience.
Good evening BHS families, Please click on the link below to read the attached letter for more information concerning Friday's remote learning day.
https://5il.co/1k435
In order to ensure the best learning opportunity for all of our students we are asking for all BHS students to bring their school laptop to school tomorrow (11/2/22) in order to help troubleshoot any issues before Friday. If your child does not have a laptop and needs to check one out, please click on the following link to download and fill out the necessary paperwork to check one out.
https://5il.co/1k434
Both of these documents can be found on the BHS school website as well.

Good evening BHS Families, Please use the link at the end of this message to read a letter from Superintendent Sanchez and Principal Lawson regarding the need for virtual learning at BHS for at least Friday, November 4th and possibly longer.
https://5il.co/1k2dh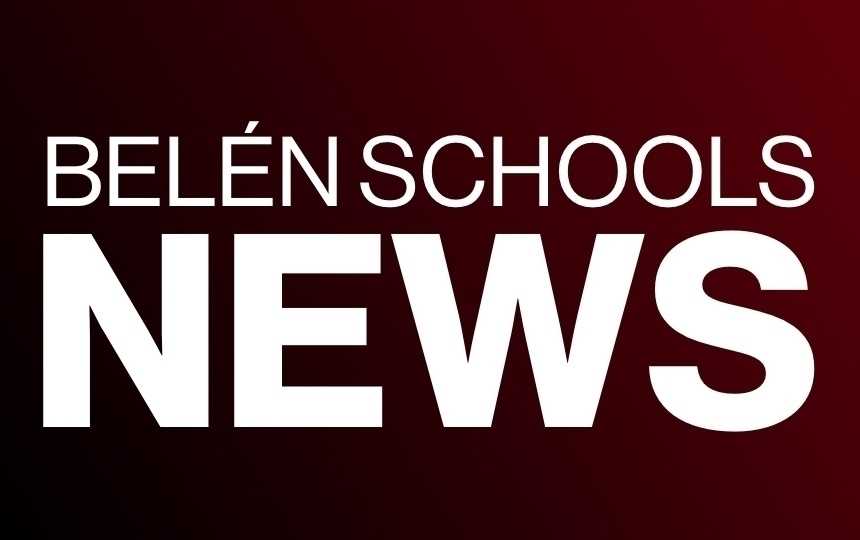 Good evening BHS families! Over the weekend the BHS family lost one of our own. Please read the attached letter from BHS Principal Sonia Lawson regarding more information concerning this.
https://5il.co/1k2e6
Good Evening BHS Families! As a reminder, if your student is enrolled in an AP course and would like to take the AP exam, please have them go see their AP teacher for the join code and register for the exam no later than November 4th. If your student does not have a CollegeBoard account yet, they can create one at
www.collegeboard.org
.
Good Evening BHS families! If your child is currently enrolled in an AP course this year at BHS and would like to take the AP exam for this course, the deadline to register for this is Friday, November 4th. BHS will cover the registration cost for all students who register before the deadline. In order to register, your child will need to first create a CollegeBoard account. They will then need to go see their course instructor to receive the access code for each test they are signing up for. Students who miss the registration deadline will be charge a $40 late fee per the CollegeBoard. Students who sign-up for a test, but do not take the test on test day will be charged the $97 test fee plus CollegeBoard's $40 return fee.
Hello Eagle Parents. Previously ordered student portrait pictures will be distributed at BHS on Wednesday, November 2 from 8-noon. Picture retakes will also be done during this time. Thank you!
Good Morning, Reminder today is a full day of school. Students who are not testing will need their laptops. Students who are testing cannot have cell phones and must stay in testing rooms until all students taking the test have finished.
Reminder that tomorrow is a FULL day for all students. ALL STUDENTS MUST REPORT TO THE GYM including those taking the PSAT. Attendance will be taken throughout the day and students will have the opportunity to attend a reward dance for coming to school to participate in student development provided they do not have other discipline issues that would prevent them from attending. Students taking the PSAT cannot have cell phones. Test takers must remain in the test rooms until all testers have completed the exam. All other students will be participating in student development sessions.
REMINDER: Wednesday October 12th, is a full day for ALL students. 10th and select 11th graders will be taking the PSAT. The rest of the student body will participate in student development. We will have rotating sessions for Career exploration to complete interest inventories, a college and career fair with presentations from recruiters and Army & JROTC We will have a FASFA session, NCAA recruitment process, presentations from District Attorney Romo, and class meetings. After lunch, all students will participate in School Spirit with Interscholastic competitions with fun and games. Please see attachment for the schedule.
https://5il.co/1j3ft
Good morning, Belen Fire Department is on site investigating an issue with an electric outlet in the cafeteria that appears to have a short. School will resume as usual and we are making accommodations for breakfast. Keep in mind, teachers and office staff do not arrive before 7:05 thank you, so we are doing all that we can to take precautions and ensure safety.
REMINDER: This is the last week yearbooks will be sold for $40! To purchase go to entourageyearbooks.com or go to room 708.